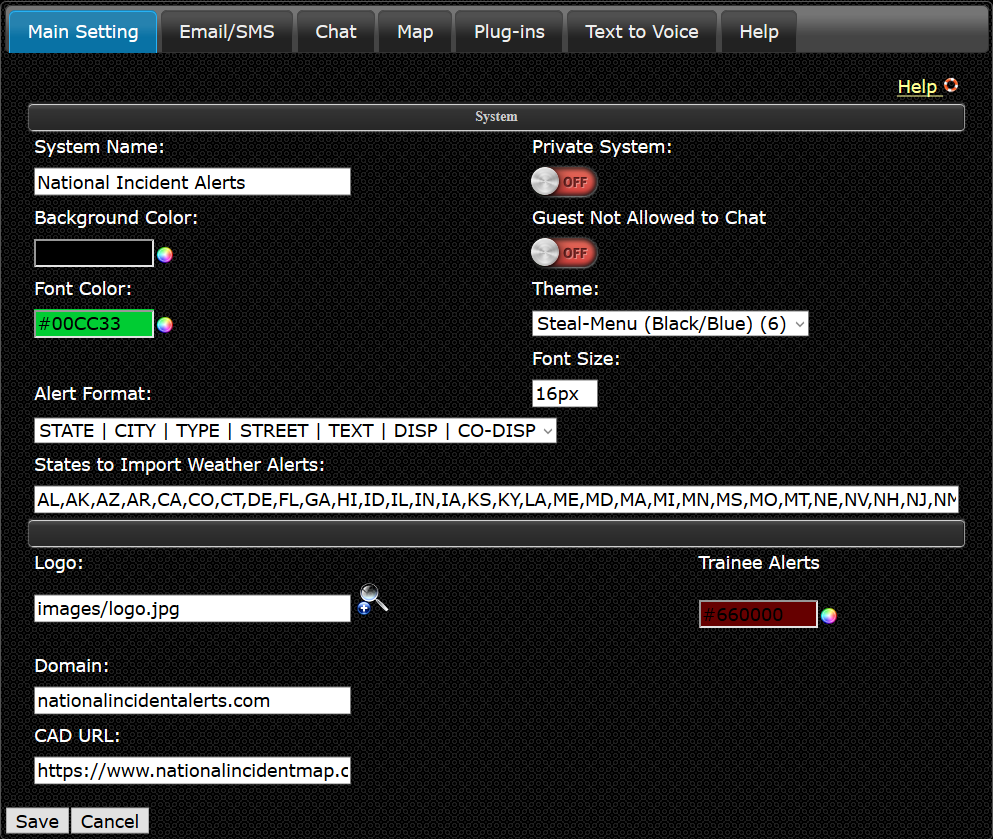 System Name is just that, the name you want to appear in your system.
Background color is the color of your pages background. Hit the color pallet to bring up the color chooser.
Font Color is the color of the page text, some themes may override your choice. Again the color pallet brings up the color chooser.
Alert Format allows you to choose from 5 pre-defined formats. This will determine the format the alerts will go out to your members as.
States to Import Weather Alerts allows you to choose the States you want to import weather alerts from the National Weather Service. Only alerts types you include in your "Alert Type" definitions will be imported. The alert types are defined by the NWS at this link.
Private System makes you system only available to Members. Non Members will be presented the Logon screen. From there they can click on the link to "Create New Account" On the IMAS Pro system new members will be required to submit there credit card info if the Credit Card integration option is turned on.
Guest Not Allowed to Chat when enabled prevents non members on an open system to chat.
Theme allows you to pick from one of five pre-defined themes. IMAS Professional systems do not offer this option.
Font Size allows you to choose the size of the text on the screen, some themes may override this option.
Logo Click on the magnifying glass to bring up the file dialog, from there you can choose an image to upload to the upper left corner of your system. The preferred image size is 300 x 110.
Domain is your main domain for your system.
CAD URL is the URL to your system, most likely it is installed in a sub-domain like https://cad.mydomain.com. If your system is in a non standard folder, you would reflect that here. If you do not have this setting correct your map will not work correctly.