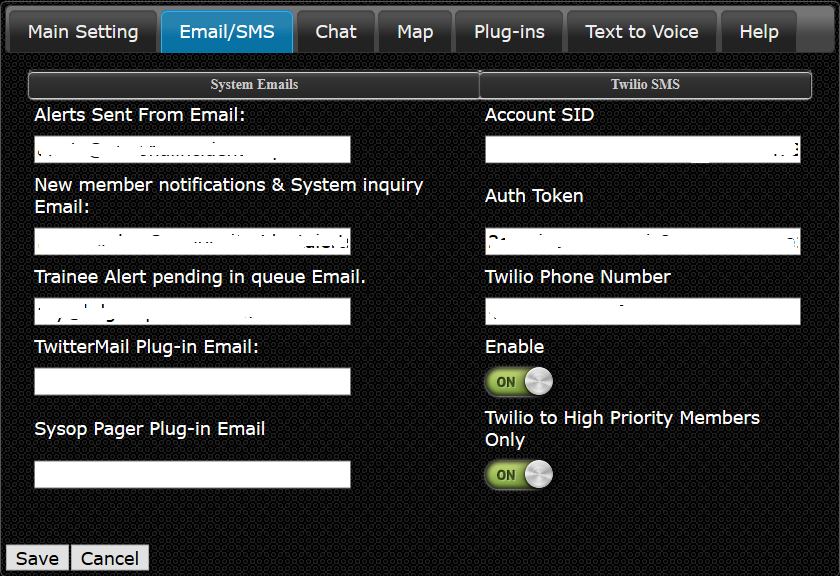 Alerts Sent From Address This is the address your alerts will use for a return address. It is important that this be an address that is monitored as any undeliverables email notifications will be sent here. If you do not address undelivered emails, your overall system will get a bad reputation and the effectiveness of alerts sent will diminish.
New Member Notification This is an email address that will receive an email from the system when someone signs up for a membership. You can use this address to setup and auto response. Like an email welcoming them to the system and steps the need to take.
Trainee Alert Pending This address will receive an email from the system when a trainee has entered an alert into the system. This allows the recipient to log into the system and approve the alert to go out.
TwitterMail Plugin If you are using TwitterMail and the TwitterMail Plugin, this is the address given to you by TwitterMail.
Twilio is a company that specializes in Voice and Text messaging. If you have trouble sending text messages through the carrier email to text message gateways you can create an account with Twilio. Once you have an account, you will be given a phone number. The CAD/IMAS system use this phone number to send your text messages. You can then track all you text message through the Twilio Control Panel. Twillio integration is only available in IMAS Pro.
Account SID is provided by Twilio.
Auth Token is provided by Twillio.
Twilio Phone Number provided by Twilio.
Enable will send all text messages through Twilio.
Twilio to High Priority Members will switch your system to only send text messages through Twilio for members that are set to high priority. All non high priority members will go through the carrier's email to text gateway. You will have to have both Twilio switches on for this to work.